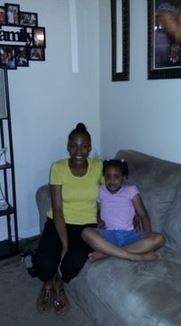 Jakeyah has always wanted to be a homeowner and with her rent increasing constantly, she turned to Habitat for a solution, "I thought I had a chance because I have good credit and live in an apartment.  I still remember that phone call. I was on the edge of tears".
Jakeyah's daughter, Jada, is six years old and is excited about moving into a house because it means she gets to have a puppy named Draco. "Jada loves to play outside a lot and it's important for me to have our own yard."
When Jakeyah's not working at Wilson County DSS, she loves to take Jada to the beach and the movies. Nowdays, she isspending more time working on her sweat equity hours. "You learn a lot. I get to see the process and to learn things I never knew I could do".
Jakyah wants to be a homeowner not only to have something to call her own, but for privacy and peace of mind. "I am looking or wared to being the only one with a key to my home. I have anxiety and this situation is stressful. I want my own driveway and to not have to fight for parking. The little things mean so much to me." Most importantly, Jakeyah wants a safe home for her daughter to grow up in and to have as her own in the future. "That's what life is about-passing things on to them".