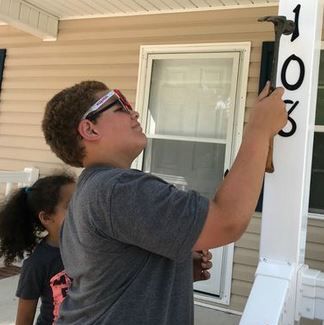 On Tuesday, July 30, the future changed for Ecia Bell and her five children as her new home was dedicated at 108 S. Chestnut St., Mount Olive.

After the prayers were said, the Bible presented, the final nails hammered and the ribbon cut, as her children ran through the empty home claiming bedrooms for themselves, Ecia said she knew she had made the right decision to become a homeowner through Habitat for Humanity.
"They're so excited. I'm so excited. This is such a blessing and I can't wait to move in," she said. "We'd been in our mobile home for about five years, dealing with things because it's so hard to find an affordable place in a good neighborhood where I can let my kids out to play and not worry."
This dedication also marked the end of Mount Olive Build 2018, in which two homes - numbers 9 and 10 in Mount Olive - were built and $90,000 was raised by the community. It also was the 80th new home dedication for Habitat Goldsboro-Wayne since 2001.
Thank you to everyone who was involved in this effort and congratulations to Ecia!