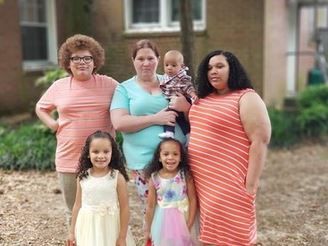 Ecia Bell loves Mount Olive. She has called Mount Olive home her entire life and is happy to raise her children in the pickle capital. She is thrilled that Habitat for Humanity will help her become a homeowner in an area she already knows and loves. Her new home will also allow her to remain close to her job as a staffing clerk at Mount Olive Pickle.
Ecia stays busy as mom to five children: Nakayia (16), Markus (10), Johnya (4), Johnecia (4) and Jodie (6 months). "They are very excited. Especially the oldest two. They know it is a new house."  Nakayia sad, "I'm excited about not sharing a room and just having space to do things". Nakayia works part-time at Burger King while she finishes high school and plans to pursue a career as nurse practitioner.  She also babysits her siblings occasionally.
Ecia and Nakayia have put in over 70 sweat equity hours since February.  Nakayia prefers the ReStore but said "Construction is a good opportunity to learn different things". Ecia prefers construction and is excited to learn how to maintain and repair items in her house.
Ecia is ready to move her family into a home where everything works. The two-bedroom mobile home the family rents has water leaks and the heater and air conditioner have not worked for several years. They currently heat the home with space heaters which causes them to run a hefty electric bill. "We've been here and dealt with these things for five years because it's hard to find another place, in a good neighborhood where I can let my kids out to play and not worry". 
In addition to having a fully functioning home, Ecia is ready to have more space. When asked what she is most looking forward to she said "I want to be able to tell them to go to their rooms and be quiet and they will have a place to go".